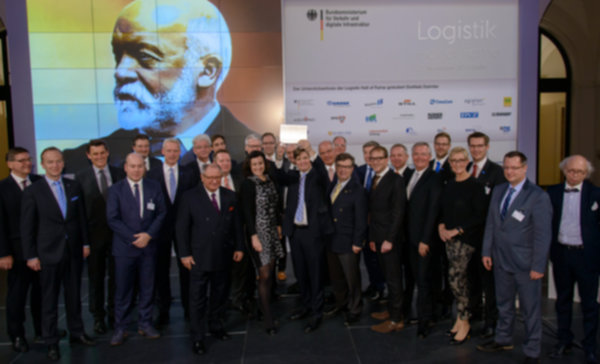 Gottlieb Daimler inducted at ceremony in Federal Transport Ministry
Around 150 guests of honour from the worlds of politics, science, industry and the media accepted the invitation of the Logistics Hall of Fame to celebrate the induction of the automotive pioneer into the pantheon of logistics in the historic Erich Klausener Hall of the German Transport Ministry in Berlin. He is the 18th member of the Logistics Hall of Fame. The glass-and-metal membership certificate was presented to Eckart von Klaeden, Head of External Affairs at Daimler AG.
Alexander Dobrindt, Federal Minister for Transport and Digital Infrastructure, praised Daimler in his words of tribute as a great inventor, a courageous entrepreneur and the pioneer who paved the way for modern freight transport: "By inventing the truck, Gottlieb Daimler revolutionised not only modern logistics but also all our lives. Today's supply chains are no longer imaginable without trucks, and it is also thanks to visionary entrepreneurs like Gottlieb Daimler that Germany is the world's leading exporting nation."
"Gottlieb Daimler was the first person to conceive of the idea of a truck, and he had the entrepreneurial genius to put this idea into practice. In doing so, he set a major milestone in the history of logistics", emphasised Jury Chairperson Anita Würmser.
It has been more than five years since a historical figure has been inducted into the Logistics Hall of Fame, and the organisers of the event used the occasion to look forward, forging a link between the world's first truck and the digital logistics of the future. In stimulating discussion sessions, Federal Transport Minister Dobrindt and Logistics State Secretary Dorothee Bär talked to Logistics Hall of Fame members Detthold Aden, Chairman of the Supervisory Board of OAS AG, and Professor Dr. Michael ten Hompel, Executive Director of the Fraunhofer IML, about the autonomous truck of the future and the strong connections between logistics and IT as major opportunities as a business and logistics location.